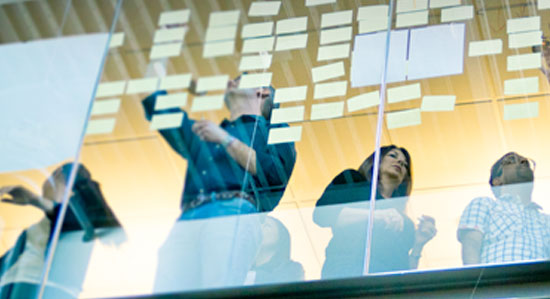 積極性を持ち、驚きと刺激をもたらす人材を 求めています
Vice President, Partner Cloud Strategy
今すぐ応募する
採用情報 ID R1912773
掲載日 Sep. 19, 2019
Partner Cloud Lead
At VMware, our Partner vision is to deliver superior value throughout the customer journey with a vibrant and committed partner ecosystem. The Partner Sales Acceleration Team (PSAT) is leading the way and driving the global partner strategy across all partner business models.
The Vice President - Partner Cloud, is a key role that will help define and execute VMWare's partner cloud strategy across our cloud solution portfolio with multiple internal stakeholders across VMware. This role will lead the creation of our broad cloud partner program for Cloud Delivered Services including how VMware activates new and existing partners into our ecosystem.  Collaborating across groups in VMware to develop the requirements for building the foundational operational needs to support a world class partner program that embraces our cloud portfolio.    
The successful candidate will be required to understand cloud and hybrid cloud markets, opportunities for VMware success and competitive landscape. Candidates must be able to define a strategic vision identify opportunities for growth and optimize existing sales and consumption-based processes and how to translate the vision and opportunities into programs to attract, retain and grow cloud practices. This candidate will have to very quickly gain credibility as a cloud expert in VMware the industry, this is a transformational time for VMware and our partners. The candidate will have to be comfortable in change management and leading the vision and execution plan across our senior stakeholders.
Our ideal candidate is a business leader with an exceptional track record of driving cloud and software growth through a diverse partner ecosystem support by innovative, simple partner programs for Cloud Delivered Services.  The role will require a balance between performing today and innovating for our future business requirements for cloud delivered services.  This will require significant collaboration and engagement across VMware.  The candidate will be required to understand product business unit requirements, sales approach, and helping customer utilize cloud delivered services.
This leader will also have the opportunity to define what the future state of their organization should be and staff accordingly.
Deliverables include maintaining a current point of view on the cloud market size and growth rates, partnering with the leaders of each business unit and functional business teams to create a consolidated cloud strategy, a connected partner cloud delivered services program and working with the partner sales leaders in the field to monitor the health. Ideal candidate would understand applying cloud strategies to a new cloud business as well as moving existing product lines to the cloud.

We seek a talented leader who can motivate, lead and drive our core sales and partner ecosystem on how to monetize and accelerate their business with Amazon Web Services. Since this leadership role is highly matrixed, the ideal candidate will have a track record of cross-group collaboration and delivering results in a matrixed organization. Success for this role will be determined in the future by the strength and capability of our partners leading with our cloud portfolio to drive new customer acquisition and activation, this will include the growth of our capable partners in Connect and our subscription business growth.
Job Responsibilities

Define long term Partner cloud strategy (SaaS models) for VMware in conjunction with functional business leaders and business units
Define and implement a global partner cloud delivered services program that is connected to VMware's partner program – Partner Connect
Define future program requirements and channel models with the VMware Software as a Service Policy Board
Define a Go-To-Market play for how we drive consumption and Subscription Purchasing Program burn down with partners 
Working in partnership with VMware Business Units on product roadmap plans and Go-to-Market
Build partner profitability model with Incentives & Investments team and Corporate Finance
Capacity and capability modeling for activating and acquiring right partners 
Work with VMware Business Units on API integration for scale marketplaces – product/solution roadmap for CDS
Partnering with Operations and IT to ensure we have the right policies, operational processes and capability, infrastructure, dashboards etc in scope
Partnering with Incentives, Finance, Pricing and Licensing on Rate Card and channel profitability modeling for our cloud delivered services 
Partnering with our Partner Channel Chiefs in the field and VMware Headquarters to land future operating models on how we acquire and activate the ecosystem of the future.
This is a highly cross functional role – requiring close collaboration with other partner groups (Susan and Geoff) in VMware
Influence senior executives to drive transformation
Experience Required

15 + years of related experience with a bachelor's degree or equivalent experience
10+ years of sales and / or sales strategy experience and sales leadership experience
Major understanding of cloud sales, Managed Service Provider operating models and prefer experience with other large cloud providers
Experience supporting and selling cloud-based business applications
Experience with high volume, high velocity sales organizations with modern ways of attracting and acquiring companies
Extensive senior sales leadership experience building, leading and inspiring cross functional teams.
High intellectual horsepower, high-energy, visionary executive with proven track record of defining and delivering new initiatives
Strong interpersonal and team building skills; ability to work with a diverse team and influence/drive change across functional and business boundaries.
Experience in supporting sales organizations, processes and strategy. Also, can be a trusted advisor to sales leadership
The ability to operate effectively in a rapidly scaling, dynamic environment, be able to manage multiple stakeholders and groups simultaneously
Extensive experience with channel partners, service providers, or end-customers in a software environment.
Ability to handle complex situations and multiple responsibilities simultaneously mixing long-term projects with the urgency of immediate demands
Experience within large, complex and highly matrixed organizations
Strong influencing and communication skills
Highly trusted individual who maintains and expects high levels of integrity, honesty and trust
今すぐ応募する