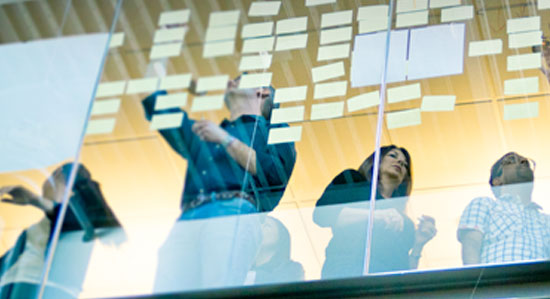 積極性を持ち、驚きと刺激をもたらす人材を 求めています
Careers in Engineering and Technology
Engineering and Technology
Sr. Frontend/Fullstack Engineer
今すぐ応募する
採用情報 ID R1907660
掲載日 Aug. 23, 2019
Business Summary: Cloud Management, vRealize Operations
It is clear that customers are responding enthusiastically to our Cross-Cloud strategy and our Cloud Management Business Unit (CMBU) team has a central role to play as we deliver a consistent operating environment across clouds. Our team is rapidly innovating for on-premises products whilealso building out our Cross-Cloud management services including costing, discovery, monitoring, root cause analysis, and visualization. As we venture into the next-generation operations management solution, it's delivered in SaaS form factor and as an installable, on-prem solution. vRealize Operations (vROps) is oriented around automated, self-driving operations.  Our challenge is in creating an intelligent operations management system that can (1) automatically rebalance workloads on premise private clouds to mitigate risk and in anticipation of predicted increase in workload, (2) automatically burst into remote clouds and scale back into more cost effective clouds, (3) right sizing virtual machine, and (4) perform cloud capacity planning so that we can solve complex multivariate and heterogeneous constrains optimizing problems using machine learning algorithms to predict future loads and come up with the best placement, while taking into account Compute, Storage and Network data of the environment.
Are you an innovator and problem solver that loves working with new technologies? Do you want to be a part of a team that delivers high quality products solving customer problems? Are you passionate about solving cloud management challenges across public, private and hybrid cloud? Are you willing to learn new technologies?
If you answered yes to any of the above and thrive giving candid feedback and contributing to the development of new ideas and services, we are the team for you.
About Us:
We are a highly focused, fast moving, agile engineering team. We believe everyone's voice matters. We value diversity, different perspectives and an unrelenting commitment to delivering software that provides high value and solves real problems. We strive to quickly deliver highly performant, scalable services at the highest possible quality.
About You:
You have professional experience delivering production grade applications using JavaScript frameworks like Angular, React etc.
·         You have passion for creating efficient, scalable, highly usable web interfaces
·         You have strong programming skills, are well versed in foundational aspects of CS and OOP
·         You have the urge to deliver phenomenal software to our customers
·         You are self-motivated and have the ability to work in an agile manner
·         You are detail oriented with a focus on implementation excellence
·         You are capable to design new features from ground up.
·         You are capable of providing technical leadership to less experienced engineers.
Job Role and Responsibility:
·         Working collaboratively in a startup like environment
·         Designing, implementing and delivering various aspects of a scalable distributed Cloud Management SaaS system
·         Solving problems related to performance, scale, resiliency
·         Implementing REST API's and their integrations into front end and other SaaS services
·         Working across backend and front end teams, infrastructure and domain teams
·         Debugging remote distributed systems
·         Creating solutions that integrate with other services in a SaaS environment
Required Skills:
·         Bachelor's degree in Computer Science
·         StrongHTML, CSS, JavaScript knowledge
·         Proven knowledge in CS, OOP fundamentals as well as object-oriented design patterns
·         Understanding of networking and distributed system design.
·         Experience with Linux and Mac operating systems
·         Track record in large-scale customer facing system software or SaaS services development
·         Strong, concise communication skills to articulate thought process
·         Validated ability to deliver on schedule
Preferred Skills:
·         Master's degree in Computer Science
Professional experience delivering production grade applications using JavaScript frameworks like Angular, React etc.
·         Familiarity in development of services oriented architecture, integrations
·         Experience in collaborative team continually delivering SaaS solutions on AWS
·         Familiarity with Apache Kafka, Kubernetes, Docker or other infrastructure software
·         Have at least five years of working experience
今すぐ応募する