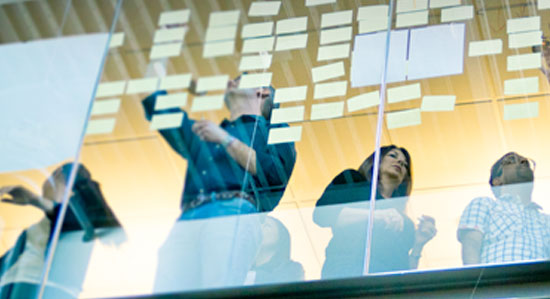 積極性を持ち、驚きと刺激をもたらす人材を 求めています
Careers in Engineering and Technology
Engineering and Technology
Senior Java Engineer, Workspace ONE Intelligence
今すぐ応募する
採用情報 ID R1912324
掲載日 Oct. 09, 2019
VMware End-User Computing runs the world's largest Digital Workspace Platform- Workspace ONE. With over 60,000 customers around the globe, our End-User Computing team is helping companies deliver work at the speed of life and our technologies are leading what's happening next for users across the enterprise.
Team
Our team builds, deploys and operates the AWS-based cloud service known as Workspace ONE Intelligence. Our goal is to transform the way customers interact with the digital workspace. We are passionate about rapidly developing high-quality software and applying automation and software engineering best practices to everything we do. Continuous improvement is part of our DNA.
We work with the latest AWS technologies and open source components. Our technology stack includes 15+ dockerized Java/Spring-based microservices and many AWS services including Lambda, Kinesis, Aurora, DynamoDB, Elasticsearch, Redshift, Glue, and EMR/Spark.
As a member of the team, you'll have the opportunity to work with experienced, passionate, and fun-loving software engineers across Atlanta, Bangalore, Palo Alto, and Sofia.
Review the Workspace ONE Intelligence Series or Workspace ONE Intelligence Lightboard on YouTube to learn more about the platform we develop. You can also find information at https://www.vmware.com/products/workspace-one/intelligence.html.
Role
Our team is seeking a skilled engineering lead to own key features and components of our data pipeline and platform. As such, you will be interfacing with product management, our UI team, and other groups within engineering to define and deliver the required solutions. You will participate in all phases of software development including requirements, design, coding, unit testing, debugging and performance tuning.
Day-to-day activities include:
Designing and developing Spring-based microservices. These services may expose new APIs for customers or utilize a variety of AWS managed services (e.g., Elasticsearch, DynamoDB, S3).
Designing and developing AWS lambdas. Lambdas are one of the key facilities that we use to move data around within our Data Pipeline.
Unit testing
Automation testing. For features that you build, design and implement effective automation tests for our CI/CD pipeline.
Instrumenting your code to collect metrics for monitoring and supportability
Addressing issues found in the CI pipeline or production
Code reviews (via Bitbucket)
Guiding and coaching junior team members
Required Skills:
5+ years of hands-on experience in software development using Java
5+ years of hands-on experience building large-scale distributed systems
Excellent system design and object-oriented design skills
Experience with and solid understanding of SQL or NO-SQL datastores
Excellent oral and written communication skills
A high degree of "ownership" - the ability to determine what needs to be done and make it happen
BS or MS in Computer Science
Preferred Skills:
Experience developing microservices
Experience with the Spring Framework
Experience deploying a global service in AWS
Experience with big-data technologies
VMware offers:
Attractive compensation package - competitive salary, flexible bonus scheme, company sponsored mobile phone plan and additional long-term incentives
Individual career path - management and technical career growth, enhanced by learning and development program, regular performance assessment, opportunity to work with international teams of IT professionals
Healthy work environment - company sponsored medical insurance program, food and beverage program, sport activities, open communication
Work-life balance – 25 days paid vacation, regular team buildings and celebrations.
This position is eligible for the WorkspaceOnehiring referral campaign.
今すぐ応募する