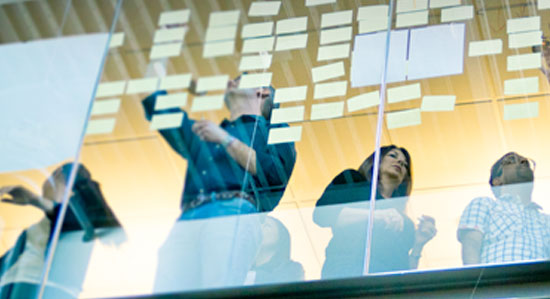 積極性を持ち、驚きと刺激をもたらす人材を 求めています
Careers in Engineering and Technology
Engineering and Technology
Senior Cloud Architect
今すぐ応募する
採用情報 ID R1900572
掲載日 Jan. 17, 2019
Senior Cloud Architect
The world is in the midst of a generational transformation. Enterprises across the globe are turning to software to change the way business is being done. Today, in this device and application driven world, companies are laser-focused on empowering teams by tailoring their businesses to their employees' digital behaviors. This is where we step in.
In VMware End User Computing (EUC), we build solutions that customize, simplify, and automate the employees' digital experience at work to help them achieve more. Our solutions provide every employee with the agility of being connected to the business from any device, on any Cloud, at any time.
While VMware is a big company, our billion+ business division feels like a start-up and is fast paced, iterative, exciting and fun. At the core of our business are our end-users; and everything we do is motivated around them and their experience. Our cloud-based desktop Virtualization solutions are state-of-the-art and will push you to your creative limits. We're a dedicated team that is fanatic about our customers, scale, efficiency, design and quality.
We are looking for a senior, seasoned software architect to guide us in our cloud transformation journey. This is a distinguished engineer level role in VMware, where you will be responsible for architecting and building the next generation of Cloud Desktop infrastructure. We are interested in proven leaders who love building robust and scalable systems with ideas from every area of computer science, including databases, distributed systems, operating systems, large-scale system design and testing, networking and security. You are bringing a track record of a proven Cloud Architect that can advise the team on on-premise and SaaS enterprise digital transformation with the aim of aligning people / process / technologies and increasing product quality. You are someone who thrives on technical leadership, management and mentoring, enterprise architecture, and application design. Ideal candidate is a passionate, creative, and self-motivated engineer who will be responsible for development of the technical vision and solutions that meets the EUCs architectural needs and can deliver on end-to-end responsibility.
Our EUC division is known to be pioneers in our field and set industry standards. In this role, you will not only be leading change to culture and technology and championing the adoption of modern architecture practices within our team, but also at an industry level. As part of a team of specialized Cloud Architects across our Workspace One divisions, you will be a major actor in shaping the future of the End-User Computing world. At VMware, you will be a trusted advisor who will work in close collaboration with EUCs leadership, Product Management, Engineering, and DevOps to influence the direction and successful adoption of our End-User Computing products.
Responsibilities
Lead and maintain the design, implementation, and documentation of complex Cloud system architecture initiatives based on real world deployment experience of VMware products within complex IT environments (including 3rd party products). 
Work independently, and as a member of a team of architects, to open up the boundaries in adopting the best design practices and ensure our products fit elegantly and comprehensively across our divisions, VMware's, and the industry's solutions portfolio.
Provide Cloud guidance and architectural oversight during fit, requirements, and design to ensure that the end-to-end solution remains aligned to the strategy and target architecture. We expect you to provide strategic recommendations for Cloud design, infrastructure design, software development design/architecture, application frameworks, and/or interfaces.
Design and enhance software architecture to improve scalability, service reliability, capacity, and performance for a robust, scalable, high-volume infrastructure.
Best and brightest in your field who can challenge our teams to have an inherent appreciation of how end user experience and simplified workflows will be a critical factor in uptake and adoption.
Help us shape a DevOps culture and drive deeper and broader adoption of DevOps principles.
Influence across multiple product areas as you work at the highest levels in VMware.
Innovate and build reference architecture white papers.
Breathe, live, mentor and champion architecture principles and encourage architecture innovation.
Qualifications and Experience
12+ years of experience in designing and implementing large scale infrastructure deployments for End-User Computing enterprise environments (including high performance heterogeneous, distributed, object-oriented client/server and/or web-based systems)
Proficiency in modern software architecture using CI/CD, DevOps, Scalability, API first strategy and etc. required.
Experience with Identity and Access Management, Virtual Desktops and Applications, Unified End Point Management (MDM / UEM / MAM / EMM), SaaS / PaaS / IaaS transformation, Cloud management system, microservices, and/or scalable multi-tenant distributed systems is a plus.
Proficiency with Go, Python or Java.
Expertise in working with container deployment and orchestration technologies at scale with strong knowledge of the fundamentals to include service discovery, deployments, monitoring, scheduling, load balancing.
Knowledge of Kubernetes and Docker required.
Prior technical paper publications and public speaking engagements.
Virtualization technologies, centralized networking, security management are all big plus
15+ years of work experience in technology industry
Excellent communication skills, both written and oral are required
Bachelor's degree in Computer Science or Information Technology or a related discipline. All applicants with applicable experience will be considered.
今すぐ応募する