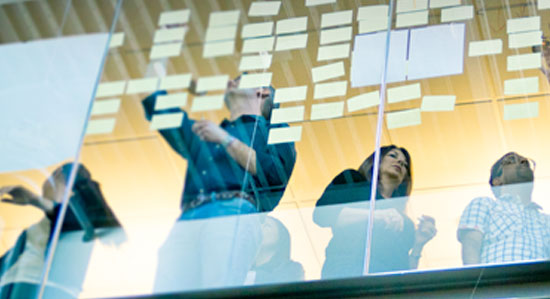 積極性を持ち、驚きと刺激をもたらす人材を 求めています
Careers in Engineering and Technology
Engineering and Technology
Product Designer
今すぐ応募する
採用情報 ID R1914853
掲載日 Nov. 19, 2019
The VMware End User Computing Design team is a cohesive group of technical and creative designers striving to turn complex problems into simple, user-centered solutions. Working together to take on complicated challenges, the EUC Design team prides itself on delivering intuitive, end to end solutions that span all platforms. Our team believes that diverse backgrounds and varied thought process' help to view problems from new angles and play a key role in the delivery of successful solutions.
The designer we are looking for is responsible for the end to end experience of a product, a project, or a feature. This starts with the initial research that comes with understanding the customer, business and technology space to specifying end to end workflows, interactions and experience. This designer collaborates with cross-functional product teams across the globe, to create experiences for challenging problems around cloud computing.
This designer is expected to:
* Work with their product management and engineering teams as well as other designs to help define product goals, requirements and represent user's point of view throughout the product planning process.
* Design the workflows, wireframes, prototypes, sketches, and final delivery mockups, to illustrate design solutions.
* Work with the engineering team to deliver those workflows the same way they were envisioned. Remember that a design is not "done" until it is actually delivered to customers.
* Work with the design, product management, and engineering leadership to improve the design and product development process.
* Verify and improve on designs through reviews, validations and formal usability testing with end users.
* Ability to rapidly prototype and deliver multiple iterations and versions of a design to quickly advance VMware's product portfolio. Speed and agility are extremely important.
* Have the ability to make sensible design decisions even when not all data is available and be able to figure out and correct possible mistakes that ship or are discovered before shipping a product or a feature.
What we look for:
* Expert skills defining and analyzing user flows and workflows.
* Expert skills in interaction design with a grasp of UCD process.
* Story telling - ability to tell simple user stories illustrating solutions.
* Excellent oral and written communication, presentation, and analytical skills.
* Agile, adaptable, and capable of delivering new products and features.
* Possess a very high level of comfort in working with developers in the presentation layer (for example, HTML, CSS).
* Good aesthetic sense and attention to details.
* Strong prototyping skills.
*Experience with conducting user research is a plus.
* Online portfolio
VMware offers:

*Attractive compensation package - competitive salary, flexible bonus scheme, company sponsored mobile phone plan and additional long term incentives
*Individual career path - management and technical career growth, enhanced by learning and development program, regular performance assessment, teams of world-wide IT professionals
*Healthy work environment - company sponsored medical program, food and beverage program, sport activities, open communication
*Work-life balance – 25 days paid vacation, regular team buildings and celebrations

As part of the VMware global standards for integrity you will be required to go through a pre-employment screening process before you join.

All job applications will be treated with strict confidentiality
今すぐ応募する