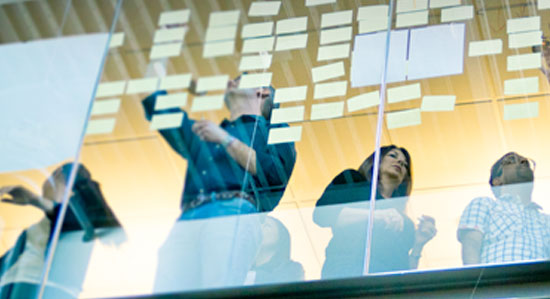 積極性を持ち、驚きと刺激をもたらす人材を 求めています
Careers in Client Support
Client Support
Process Architect, Business Process & Solutions Business Transformation
今すぐ応募する
採用情報 ID R1915208
掲載日 Nov. 18, 2019
The Business Transformation & Automation (BTA) team partners and engages with business functions across VMware in planning and driving digital transformation, by leveraging people, process, data insights, technology and governance.
Are you interested in being a valued member of a high energy team, focusing on optimizing field & customer experience and helping achieve best in class operations? If so, keep reading. In this role, you will streamline business practices, transform & improve business processes, drive automation, implement governance models and develop an overall impactful narrative for the business.

As the process architect, you will be a key leader & facilitator across cross-functional teams of business stakeholders across a variety of functions, focusing on the full Professional Services lifecycle and also working with Order Management, License/Service Fulfillment, Pricing, Quoting, Service Contracts, Entitlement Management, etc. requiring deep functional & transformation expertise in Professional Services and Configure, Price, Quote (CPQ). The Process Architect will partner with business leaders from various groups, driving collaboration, facilitating discussions, evaluating and analyzing options and driving targeted actions. The role will require strong interpersonal and communication skills, the ability to work with cross-functional teams with different requirements and excellent program management and operations skills.
Essential Functions (Tasks and Responsibilities):
Stakeholder Management & Business Engagement
Drive Digital Transformation by engaging & collaborating with senior level business leaders across multiple business functions in the Professional Services Function, while also engaging Deals Desk, Order Management, License/Service Fulfillment, Revenue, Sales, Channels, Pricing, SaaS Ops, Renewals etc.
Partner with business leaders to drive business transformation in the Professional Services domains, by leveraging process & policy transformation and innovation in support of our strategic objectives and operating models
Collaborate with cross functional business units (as identified above) to drive end-to-end business, operational and technology capability, process standardization, simplification, consistency, maturity & effectiveness
B. Subject Matter Expertise & Capability Management
Drive the overall VMware maturity in capabilities in the Professional Services function, including Sales, Contracting, Resource Management, Project Management, Invoicing and Revenue Recognition with specific focus on Configure, Pricing and Quoting (CPQ), leveraging cutting-edge technologies including Professional Services Automation, Contract Lifecyle Management, and ERP solutions to drive business transformation
Drive VMware's business goals by identifying and driving process optimization and re-engineering activities, as part of overall business transformation.,
Architect scalable solutions within the Professional Services arena. Define and promote business architecture standards and strategies
Advocate and drive adoption of standard methodologies to ensure standardization across business functions in business process standardization, optimization and automation solutions
Drive effective business case definition, articulation of cost/benefit investment decision-making for initiatives
Lead process mapping and design workshops with business partners to establish a holistic understanding of key processes and assess opportunities for process improvements
Drive vision for overall change management and communication to stakeholders throughout the initiative lifecycle
Ensure delivery and implementation of capabilities to drive realization of business value
C. Execution Collaboration and Partnership
Interact, consult and partner with functional leaders within BTA to ensure successful delivery of projects and business solutions designed to deliver on the business outcome to meet the business strategies and goals
Collaborate with business partners, business process architect and IT technical team to drive process optimization, capability architecture, scalability, optimization and automation
Qualifications & Experience:
12+ years of consulting experience in performing a variety of definition, planning, design & implementation initiatives in the Professional Services process areas, with proven experience driving business transformation in CPQ domains
4+ years of demonstrated experience in driving digital transformation in Pricing, in a SaaS environment
Proven ability to drive complex, cross-functional business transformation programs, with deep domain expertise in the Pricing business functions.
Demonstrated experience in enabling key business strategies by defining a multi-year business roadmap and execution plan to achieve desired business outcomes
Creative thinker with experience in building partner relationships and managing expectations across different business functions, with a deep focus on Business Transformation
Experience in translating and connecting business strategy to executable roadmap to enable business capabilities that align with objectives and goals
Strong process analysis and modeling skills along with ability to lead complex enterprise initiatives through business process integrations, converting business strategy into actionable objectives and measurable results
Validated expertise in devising and implementing streamlined business processes and strategic transformation, optimization and automation solutions to improve efficiency, automation, and productivity while reducing costs and growing revenue
Demonstrated track record of performing within complex organizations requiring strong influence management skills - ability to work collaboratively at all levels in matrix environment
Strong facilitation skills and experience in managing senior stakeholder (VP level and up) relationship, partnership and interactions
Strong written and verbal interpersonal skills with capability to facilitate strategic business strategy, capability and architecture conversations with all stakeholders
Self-starter who thrives in an ever-changing, dynamic business environment
Excellent management, organizational and planning skills
This job requisition is not eligible for employment-based immigration sponsorship by VMware.
今すぐ応募する