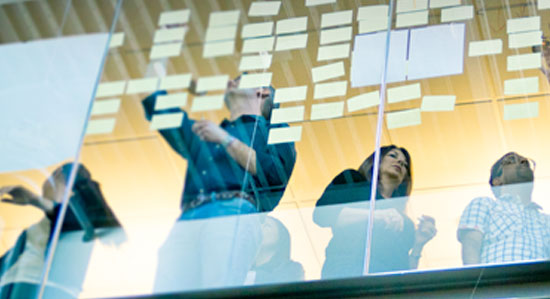 積極性を持ち、驚きと刺激をもたらす人材を 求めています
NSX Account Executive
今すぐ応募する
採用情報 ID R1911431
掲載日 Sep. 25, 2019
VMware stands out from other organisations because of its strong corporate culture and EPIC2 values which encourage people to bring their authentic and innovative selves to work every day.
If you are considering VMware as a potential next employer, you couldn't have chosen a better time.
We are focused on identifying the key customer issues in Digital Mobility, Digital Transformation and helping with them with their Hybrid Cloud Journey by leveraging our best in class Software Defined Data Centre.
VMware is a company that is built on shared values and having a strong corporate culture and identity is key to what makes it a great place to work.
These values best expressed through the acronym EPIC2: execution, passion, integrity, customers, and community.
Execution is a core value that encourages collaboration and high standards. VMware teams debate and discuss, and then get things done. Egos are checked at the door, and shared work is focused on impact, quality, and efficiency.
Passion means challenging the status quo. VMware people are encouraged to follow their curiosity and the pursuit of the seemingly impossible to continuously make things better for customers, products, and each other.
Integrity focuses on building trust. Employees are expected to say what they do and do what they say. The company encourages peers to build and nurture relationships with one another, customers, partners, shareholders, and the community—without taking anything for granted.
Customers make it possible. They are core to VMware's mission. The innovation that flows out of VMware frees customers from constraints and enables organizations of all types to meet their toughest technological challenges.
Community acknowledges connection. Employees are encouraged to approach each other with open minds and humble hearts. Opportunities to serve by dedicating time, talent, and energy are plentiful.
Do you have what it takes to be EPIC2?
VMware transforms networking and security with the Virtual Cloud Network, our networking vision for the digital era. The Virtual Cloud Network, built on NSX technology, provides a ubiquitous software layer across data centre, cloud and edge infrastructure with the following characteristics:
A cloud networking fabric – consistent connectivity from edge to edge
Security that is intrinsic to the infrastructure and not bolted on
A network delivered in software for maximum agility
Every organisation is figuring out how to enable their business in a hyper-connected world. With this platform, customers can secure their application infrastructure wherever applications reside, fully embrace connections to the cloud, and unify their branch and edge environments across their business. 

The NSX Account Executive is responsible for a coordination and execution of a sales strategy for the Virtual Cloud Network portfolio into VMware's Enterprise customers.

As a Virtual Cloud Network Specialist, the role provides top-performing sales professionals with a once in a lifetime opportunity to change the status quo. This revolutionary technology is the network virtualization platform for the Software Defined Data Centre, by bringing the operational model of a virtual machine into the data centre network. Backed by world-class account teams, systems engineers, professional service, partner channel, and inside sales teams, you will bring expertise to the team as we continue the growth of network virtualization. We seek out entrepreneurial sales professionals to define and seize these opportunities in an environment energized by market momentum, industry leadership, and rapid business growth.

Responsibilities:
Responsible for selling Virtual Cloud Network platform into Enterprise accounts.
Drive account portfolio sales strategy and focus on top accounts and establish sales cadence with the corporate account team
Adopt account portfolio sales strategy leveraging channel partners
Responsibility to move the transaction through the entire sales cycle

Demand generation and pipeline identification
Pipeline creation targets
Sales hygiene (SFDC, forecasting and business reviews)
Negotiation, pricing, contract management.
Sales execution.

Drive virtualization adoption and identify new opportunities in Tier 1 accounts
Solidify existing customer accounts and elevate VMware to a more strategic position
Match the VMware NSX solution to the customer's business needs, challenges, and technical requirements
Experience Required:
5+ years related experience in networking and security, SDN, SD-WAN.
Experience selling in a product sales specialist capacity.
Experience of selling into the Enterprise Customers
Experience selling in both a direct, indirect and channel driven models.
Experience leading a team of professionals in sales campaigns that include sales executives, system engineers, inside sales, marketing,

professional/delivery

services, sales and bid management.
Proven track record of success selling in a highly competitive environment.
Education/Experience:
- BA/BS degree or higher, or equivalent job-related experience.

Travel:
- Estimated travel of between 50-60% depending on the density and size of the territory.
今すぐ応募する