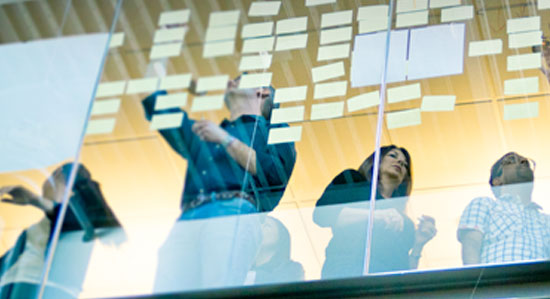 積極性を持ち、驚きと刺激をもたらす人材を 求めています
Careers in Business Strategy and Operations
Business Strategy and Operations
New Grad, GCR Strategy, Finance & Operations
今すぐ応募する
採用情報 ID R1909102
掲載日 Oct. 24, 2019
Business Summary
98% of Fortune 500 Companies use VMware Technology!
The most advanced companies in the world turn to VMware to manage, grow and transform their business. When you work here, you're connected to a global community of innovative, empowered employees working together to solve the most critical technology challenges.
We believe that creativity sparks innovation and inspires our employees to think differently and challenge the status quo. Whether it's the kind of products we develop, our approach to sustainability, or how we give back to our communities, VMware finds unique ways to bring people together to fuel creative thinking. Want to know more, check out our website https://careers.vmware.com/.
What the Program Offers
We are seeking a highly ambitious and adaptable talent to join our New College Graduate (NCG) Rotation Program! The successful talent can expect accelerated exposure to various key VMware functions which are critical to the success of business growth in GCR. Since VMware is the well-recognized market leader in driving information transformation, we want to prepare and capitalize our future leaders to sustain our future success with the NCG rotation program. 
This program provides the successful new college graduate with the ability to build a solid foundation for a successful career by experiencing high-impact, challenging rotational assignments. Over the course of 36 months, you'll have the opportunity to gain both cross-functional experience through 6-month assignments in the following areas before permanent placement into a role that aligns with your career interests:
•    Business Operations
•    Channel Operations
•    Strategic Planning and Program Management
•    Deal Management
•    FP&A
•    Market Insight and Business Operations Shared Services Center
You'll be working for one of the best technology companies in the world under the leadership of Pat Gelsinger, the best CEO (voted by Glassdoor). In our GCR Strategy, Finance and Operation team, we have a dynamic team, collaborative and inclusive culture that will enable our talents in developing their early careers, so start your journey with us! 
How This Program Works
Under the program, we'll support you in accelerating your own development by:
•    Providing foundational tools to set you up for success through structured training and development sessions
•    Providing you with ongoing coaching, feedback, and mentorship from a diverse and encouraging network of talent
•    Fostering a peer network to engage with, learn from, and build positive relationships with
•    Helping you reflect on yourself and key learnings to help you chart your future and fast-track your career
Requirements: 
•    2019 and 2020 grads pursuing an undergraduate or postgraduate degree in Business Administration, Human Resources, Finance, Accounting or relevant field of study.
•    0-12 months of experience within any of the following areas: Finance, Accounting, Pricing, Sales Operations, Renewals, Data Science, etc.
•    Ability to multitask and navigate through ambiguity
•    Strong interpersonal skills, incl. good communication with the ability to articulate ideas in a precise and concise manner
•    Enthusiasm and a desire to make a difference
•    Ability to think creatively, take ownership of tasks and adapt to changing business requirements
•    Motivated self-learner with the passion and follow through to acquire new skills
•    High level of accountability and integrity
•    Detail-oriented 
•    Work well in a global virtual environment that is fast-paced and constantly changing
Preferred Skills :
•    MS Excel, Access, Oracle or related systems and tools skills 
•    Experience with Salesforce.com is a plus 
•    Effective presentation skills
•    Fascination with information technology and its use in business
Other Requirements:​
• Be able to start a full time job in Jul, 2020
• The role is based in Beijing, China.  VMware will not sponsor immigration for this role.
今すぐ応募する