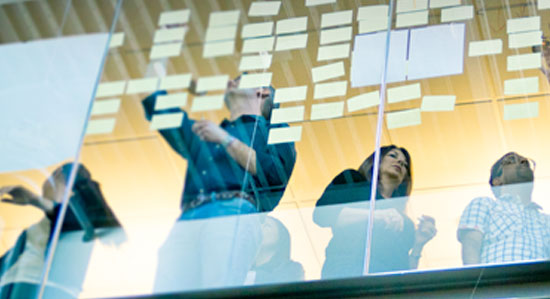 積極性を持ち、驚きと刺激をもたらす人材を 求めています
Careers in Engineering and Technology
Engineering and Technology
Member of Technical Staff
今すぐ応募する
採用情報 ID R1907485
掲載日 Jul. 19, 2019
Job Description
Business Summary: Cloud Management
VMware's Cloud Management Business Unit is looking for a Site Reliability Engineer to play a pivotal role in advancing team's SRE endeavors. Cloud Management Business Unit is a catalyst to VMware's portfolio of cloud services. This transformation to cloud is turning out to be an exciting journey and we are looking to build a solid SRE team with focus on various production engineering aspects like CICD, SRE, Monitoring etc.
As our products move from monolithic on-premise model to AWS public cloud-based SaaS model, SRE functions are poised to play a critical role in the success of VMware's could management products. SRE team will be responsible for taking SaaS service to production from inception while providing actionable insights into these services running on AWS cloud. The team is responsible for instrumenting cloud services written in Java, Go, Python to provide service level indicators to help developers fine-tune their services and take preventive actions to keep the service running in production with minimum downtime. (possibly zero downtime)
With 2018 revenue of $8.97 billion, VMware is headquartered in Palo Alto, CA and has over 500,000 customers and 75,000 partners worldwide and 20,000+ employees in 120+ locations around the world. At the core of what we do are our people who deeply value execution, passion, integrity, customers, and community.
Job Role and Responsibility:
Are you passionate to join something new? Do you work very efficiently and routinely deliver the right things? Do you feel proud of what you build and deliver?
Be part of the team to transform billion-dollar revenue-generating CMBU products into SaaS offering in AWS. This is an outstanding opportunity for you to participate in the creation of our next generation products using innovative technologies for a large application domain, working in cross-team and cross-geo environment.
A close-knit, but growing team of engineers who are all eager to take on big challenges. We have the luxury to use the latest cutting-edge technologies like Java 9, Spring 5, Kubernetes, Go, AWS cloud services, Terraform, Packer and Wavefront monitoring. We use various development methodologies to meet business objectives, build our software incrementally, ship code continuously, and refactor systems as needed. We strive to maintain a great work-life balance on our team and to promote an atmosphere of learning from each other. If our business and culture sound like they might be a fit, we'd love to hear from you.
Required Skills:
Background with Computer Science fundamentals (based on a BS or MS in CS or related field)
Strong knowledge of Java/Python/Golang with good object-oriented programming skills
Contribute towards development efforts of common tools and frameworks
Inclinations to work in site reliability and production engineering
Passion to monitor service uptime and health issues in production environments
Familiarity with continuous integration and automation server like Jenkins
Familiarity with building infrastructure services consumable by R&D teams
Familiarity with platforms like Kubernetes, Containers and public clouds
Familiarity with deployment and monitoring of highly scalable products in a SaaS model
Familiarity with SRE best practices, working knowledge of observability principles is a big plus
Preferred Skills:
Familiarity with

Observability/

monitoring infrastructure like Grafana, Prometheus, Telegraf etc.
Develop AWS infrastructure automation using Terraform, Packer and Ansible
Build system like Maven, Nexus, Gradle
Familiarity with scripting (Perl, shell)
Familiarity with Linux Systems (Red Hat Enterprise Linux, CentOS, Ubuntu, Debian)
今すぐ応募する
保存した求人情報
保存された求人情報はありません。
最近参照した求人情報
参照した求人情報はありません。