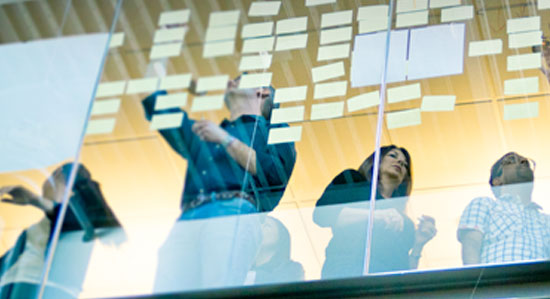 積極性を持ち、驚きと刺激をもたらす人材を 求めています
Digital Solution Architect, Professional Services
今すぐ応募する
採用情報 ID R1912976
掲載日 Oct. 09, 2019
VMware is now in Barcelona and we are building our Digital Sales Centre right in the heart of Glóries, Barcelona's booming tech HUB! At launch, our new offices are hosted in WeWork's energizing coworking space. The centre is having the feel of a start-up environment while also sitting under the established and highly regarded VMware brand. If you want to build a career in software sales, then this could be the place for you and over 100 of your new colleagues to help shape what's possible for the most advanced companies in the world.We're excited to be opening our doors in Barcelona and we welcome you to explore how our innovative solutions are having a positive impact on customers and communities everywhere.
The global VMware Professional Services Organization (PSO) influences the success of each VMware implementation. The PSO team is dedicated to the success of the customer and their virtualization strategy and implementation. They ensure that VMware customers are successfully implementing their business plans from adoption all the way to a fully functioning virtualized datacenter. The VMware PSO team includes Implementation/Managed Services, Project/Engagement Management, Education Services, Partner Management and Technical Account Management (TAM) Services.
The PSO Solutions Architect works closely with the PSO Inside Services Business Managers (iSBMs) to build customized solutions to meet a client's unique business needs. Building a solution may include activities such as conducting client interviews, secondary research, input from the Account Team, working with specialists, product managers, and other stakeholders. As Solutions Architect, you should have excellent listening skills, interpersonal skills, ability to solve complex problems, be a big-picture thinker and be able to visualize the solution. With a clear and agreed-upon client vision, you will be responsible for designing the solution to realize the vision. You will be also owning the solution and support the creation of conceptual design and Statements of Work (SoWs), including estimation of effort calculations, identifying and mitigating project risks, defining service descriptions and detailed work packages.
As a PSO Solutions Architect, you will be responsible for the design of complex transformational strategies. In this technology leadership position, you should feel comfortable in leading the development of solutions. The role requires tools, frameworks, and design patterns for solutions. You will be asked to contribute to those frameworks, develop reusable domain solutions, and mentor internal & external stakeholders on the use of the tools. You will be working as part of a team with similar charters. To effectively build complex strategies it is important to build a strong network among your peers and internal & external teams. You should be ready to take ownership of the initiatives and programs to aid in delivering solutions. The ideal candidate will have a good mix of Technical Skills, Business Acumen, and a strong desire to support the customer. The ideal candidate will need to understand the detail behind the solutions and also be able to communicate a high-level vision. You will be acting as a lead technologist and should have a broad understanding of technology. The ideal candidate would have domain level understanding in one or more of the following areas:
Infrastructure (Data Center Design, Networking, Systems Hardware, System Architecture Virtualization, Systems Management, Security) Desktop (Desktops Architecture, Thin/Zero Clients, Desktop Management, Desktop Design) Management (Datacenter Management, Application Management, Desktop Management, JMX, SNMP, MIBS)
Responsibilities
Participate in the pre-sales process to understand customer business, technical objectives, and product requirements
Design solutions to meet the business/technical objectives
Must be able to develop Vision Strategy and Roadmaps deliverables to meet technical solutions
Ability to think past the products and create solutions to meet the business/IT needs
Effectively communicate solutions architecture to the customer, third parties and the project teams
Ensure that proposals and statement of works are technically sound, deliverable, competitive and representative of market leadership in the application of technology to addressing business issues
Support sales efforts with delivery management and practice management teams
Provide feedback to Product Management based on customer feedback
Adhere to VMware PSO sales process and methodologies on all opportunity pursuits
Participate in account relationship and issue management activities
Maintain proficiency in VMware service offerings, value propositions, and representative case studies
Obtain continuous feedback from the field, including customers, bringing IP back to corporate teams and making recommendations on future service offerings
Skills & Requirements
5+ years experience in a technical capacity in either Infrastructure, Development, Desktop, or Systems Management
Minimum 2+ year's business development experience in a consulting and/or professional services environment
2+ years as a Technical Solutions Architect in a consulting environment, including time supporting sales and managing technical staff and implementations
At least 3 years experience in infrastructure architecture and design of complex distributed systems environments, including failover techniques, recovery/rollback, and application partitioning
Experience in a technical lead role for small or medium-size teams
Strong presentation, executive client management and business development skills
Superior organizational and negotiation skills
Strong practical Unix or Linux systems administration skills is a plus
Strong application software development for one or more of the Linux, UNIX (e.g. Solaris), Windows operating systems. Systems programming or OS internal level skills would be an advantage
Understanding of computer server architectures, including peripheral interfaces (SCSI, RAID, Ethernet) and multi-processor designs (SMP)
Familiarity with systems management concepts, processes and standards (e.g. SNMP); capacity/performance management and tuning; and storage and network management
Understanding of modern IT production data centre and Internet (ISP/ASP) hosting operations
Excellent communications and interpersonal skills
B.S./B.A./M.S. degree or equivalent technical training
Certifications in technologies related to Infrastructure, Development, Desktop and/or Systems Management
Offer
Amazing office environment in the centre of Barcelona's tech HUB
Being part of a rapidly-growing, international environment - we are currently over 100 colleagues and 30 nationalities from all over the world!
Well established training plan, on-going coaching and

real development

opportunity (locally and globally)
Competitive compensation + annual bonus
Additional benefits, such as ticket restaurant, private health insurance, and gym allowance
Permanent contract with a 6-month of probation period
Relocation package for our international candidates
Team building events, such as company breakfast, summer and Christmas parties, etc
Volunteering events organized by the company
Daily coffee, beverages and fresh cookies
Happy hours, Monday breakfasts and wellness activities (yoga classes)
A sunny rooftop terrace with ping pong and foosball table
22 vacations days per year
Bike and electric scooter friendly environment :)
今すぐ応募する