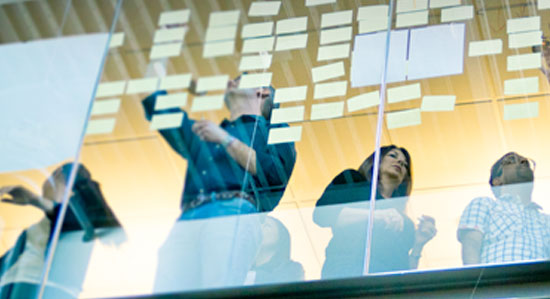 積極性を持ち、驚きと刺激をもたらす人材を 求めています
Cloud Management Specialist
今すぐ応募する
採用情報 ID R1913049
掲載日 Oct. 04, 2019
The world of IT is in the midst of a great upheaval. While some are confused or struggling in the Cloud First world, VMware is surging on record growth across its security, cloud and mobility solutions. To meet this demand, VMware is hiring.
In this role, cloud management represents two domains of equal importance – automation and analytics.
We strive help our customers deliver the self-service portals that will delight their end users. We educate them on the path to automating everything in the data center they reasonably can. Passionate about Infrastructure-as-Code and DevOps principles? This space is for you. It's not just VMs and Containers we are delivering, but the security and networks to go with them via the software defined NSX stack behind us www.vmware.com/products/nsx.html. This is not a networking team, but cloud networks are the among the hottest things for us to automate today.
All this said, we know clouds cannot rely on old silos of traditional monitoring to be healthy, at scale. That is why this team educates customers on the use of operations across data centers' traditional domains (compute, storage, network) and emerging domains (containers, serverless, PaaS). We teach that looking across silos is the best way to understand and anticipate the needs of the application and end-user. This is the other side of modern self-service. Smart dashboards and insightful reporting. You will need to understand Operations as it relates to building and supporting automated infrastructure and apps.
Last, but not least, we deliver IT integration experience. No one solution could ever do it all, including ours. Whether it is an out-of-the box integration for automating DNS, or connecting a storage plugin from a 3rd party, our customers choose us because we work well with others. We do not write integrations, we are not developers, but we make existing integrations work. 
When not with customers, supporting the extended team and staying in touch with the business units writing our software will be essential. They want our feedback.
Finally, members of this team will also be responsible for educating other people at VMware, as well as our partners and customers. Being on this team means sharing what you have learned, from time to time.
Key Responsibilities:
•Evangelize VMware's strategy driving product demonstrations to customer executives and technical leaders
•Provide technical support for opportunities involving VMware management and integration into existing management and monitoring systems.
•Lead Proof of Concept exercises in customer labs to validate solutions
•Maintain deep technical knowledge of Cloud solutions, industry directions and trends.
•Maintain working knowledge of peer and competitor products.
•Provide consultative support to the Field and Partner Training organization for development of deep technical Go-To-Market training material and positioning.
•Work multi-functionally with Product Management, Technical Marketing and Engineering during the development, launch and continuing refinement of VMware products.
•Maintain, grow and leverage technical pre-sales relationships with key VMware Partner Field Organizations.
•Own the technical pre-sales community discussions and facilitate knowledge dissemination to the VMware and Partner Subject Matter Experts with regards to VMware products in conjunction with Cloud solutions and architectures.
•Document standard methodologies and architectural references in developing and deploying VMware Cloud solutions.
Requirements and Desired Experience:
•Enjoy learning new things.
•Be comfortable with change as an opportunity to thrive.
•Distill complex solutions into simpler, visual chunks that regular people can understand.
•Have experience with IT automation and orchestration tools.
•Have Experience supporting large customers and/or teams practicing Agile and continuous delivery, is preferred.
•Experience crafting, architecting, and integrating with 3rd party cloud environments like Amazon Web Services, Google Cloud Platform, and Azure preferred.
•6+ years of experience in technology-related areas including: enterprise systems management and infrastructure (datacenter) architecture experience with significant depth around designing, implementing, and leading critical business infrastructure.
•Good technical proficiency with both mainstream and emerging automation and configuration management solutions. Some examples include - vRealize Automation and Operations, Turbonomics, vCenter Orchestrator, Jenkins, Puppet, Chef, Openstack, Salt, Docker, Github, Kubernetes, Pivotal Cloud Platform, etc. You are not required to know them all, but you do need be good with something here already to be viable.
•Understanding of cloud security and governance requirements/frameworks like FedRAMP, HITRUST, ITAR, Cloud Security Alliance standard methodologies.
•Understanding of Identity Access Management (IAM) solutions, as part of cloud governance frameworks and familiarity with Security Information and Event Management (SIEM) security controls, as well as encryption and key management solutions.
•Enthusiastic, self-starter with a charismatic personality.
•Consistent track record of selling services as a solution,
•Strong customer-facing and relationship building skills.
•You should be effective in working both independently and in a team setting.
•Strong listening and question-based selling skills
•Ability to uncover business challenges and develop a custom solution to tackle those challenges.
•He or she should be an accomplished presenter of sales and technical material to both small and large groups.
•The ability to communicate extemporaneously is desirable.
•Superb communication skills, both written and oral are required,
•A Bachelor's Degree in Computer Science, Engineering, Mathematics, related field or equivalent experience.
今すぐ応募する