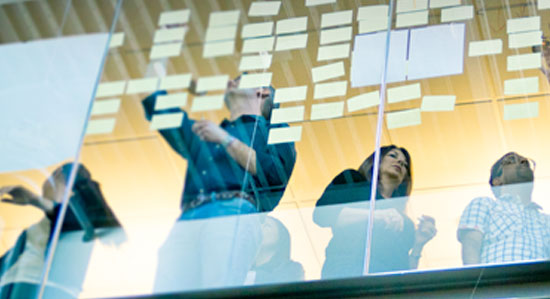 積極性を持ち、驚きと刺激をもたらす人材を 求めています
Careers in Business Strategy and Operations
Business Strategy and Operations
Cloud Economics Business Development Manager
今すぐ応募する
採用情報 ID R1901405
掲載日 Feb. 12, 2019
VMware's a fast pace, rapidly growing environment, will require flexibility to roll up sleeves to participate in various roles to deliver success! We are looking for a Sr. Business Development Manager for cloud economics.  In this role, you will help VMware largest and most strategic customers and prospects shape their information technology strategies and business models to quantify the benefits of running workloads on VMware Cloud on AWS.
To do this, you will work with senior executives at our customers and their partners across the region to frame the economic and business benefit of their cloud adoption strategy. You will communicate the economic value proposition for VMware Cloud on AWS to a broad audience of senior financial customer executives (CFO level). You will identify economic barriers to adoption of VMC on AWS with these customers and develop repeatable strategies to overcome these barriers. You will enable the broader VMware field organization to understand how to build the increased business value of VMware Cloud on AWS into their account plans and sales strategy. You will serve as focal point for all business value, TCO, ROI, business case and financial discussions with our customers and partners.
Your responsibilities will include driving business case, value analysis and ROI related business development activities within VMware, supporting the Specialist Sales organization, Marketing, and Partner teams on ROI/economic related customer and partner engagements. You will serve as an expert resource on the financial modeling of IT applications and infrastructures. You will engage directly with our customer's CFOs and their organization to understand the impact of cloud on the business case and funding decisions. In appropriate cases, you will bring in other VMware resources as necessary to help our customers properly evaluate their IT options from an economic perspective.
Key Responsibilities
As a key member of the cloud sales team in helping to drive VMware Cloud on AWS Sales engagements with our customers regarding the economics of their IT infrastructure.
Collaborate with cloud specialist sales, system engineers, and core sales teams to drive business value and financial conversations with our customers proactively.
Serve as a central resource for the specialist sales team to help our customers create appropriately detailed financial models for their current and future IT landscape.
Develop and communicate market insights into how our customers view the economic benefit of using VMware Cloud on AWS relative to deploying applications on-premise or in traditional data centers or in a Hybrid Cloud environment
Help develop and improve a standard business case / TCO framework and dynamic analytic model to be utilized by the regional Sales, Partners, and Marketing teams
Create a repository of cloud economics cases studies to share learnings and benchmark data within the cloud specialist sales teams and with our partners
In conjunction with WW cloud economics and field enablement teams, help create cloud economics related training programs and material for AWS partners, and AWS customers themselves so that they can properly address TCO and economic-related issues
Engage with internal stakeholders to communicate market realities regarding the economics of running IT applications and infrastructures in the cloud
Willing to travel at least 25% of the time
This position is based in Bellevue, WA or Palo Alto, CA
Essential skills and Competencies:
7 years of business development, management consulting, financial advisory or IT Management experience.
Experience working in or with leading cloud services organizations
Experience working with senior executives (both IT and Finance), IT outsourcing vendors and cloud service providers to analyze implementation options for on-premises, virtualized and cloud IT Infrastructures.
Working experience with detailed business case development, financial modeling and analysis of large-scale technology investments
Experience working in the sales cycle, either directly, or as a pre-sales resource
Demonstrated ability to work effectively across internal and external organizations, including sales, marketing, business development and training
You have excellent written and oral communications skills
Keen attention to detail
Excellent analytical, evaluative, and problem-solving abilities
Preferred skills and Competencies:
Management or Financial Advisory Consulting background highly desired
MBA or equivalent relevant business experience
Experience with data center migration and IT refresh analysis is highly desired
VMware is an equal opportunity employer committed to the principles of equal employment opportunity and affirmative action for all applicants and employees. Equal opportunity and consideration are afforded to all qualified applicants and employees in personnel actions, which include: recruiting and hiring, selection for training, promotion, rates of pay or other compensation, transfer, discipline, demotion, layoff or termination. VMware does not unlawfully discriminate on the basis of race, color, religion, sexual orientation, marital status, pregnancy, gender identity, gender expression, family medical history or genetic information, citizenship, national origin or ancestry, sex, age, physical or mental disability, medical condition, veteran status, military status, or any other basis protected by federal, state or local law, ordinance or regulation. VMware also makes reasonable accommodations for disabled employees consistent with applicable law. Further, it is the policy of VMware to maintain a working environment free of all forms of harassment.
今すぐ応募する
保存した求人情報
保存された求人情報はありません。
最近参照した求人情報
参照した求人情報はありません。